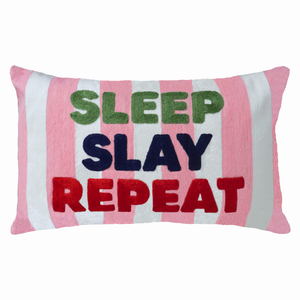 SLEEP.
Every great work of art needs rest. Find time to relax. Create a happy place. Notice, I did not say find a happy place. Make sure you do things that help you recharge. And get 8 hours of sleep! Your grind renders ineffective if you can't function!
SLAY!
You are amazing. You are a fantastic creation. Having said that you better slay! Don't give any less than your best! Show the world what you're made of, and like Steve Martin said, "Be so good they can't ignore you."
 REPEAT.
Don't give up. Sometimes I feel like doing it. You feel like doing it. We've all been there. But the race is not given to the swift, and the most successful people are those who persevere despite great obstacles.
Limited Edition - 100 made
Handmade needle thread stitching
Includes inner foam cushion
30x50cm